How to fix rear window wind noise
Many 5th gen. owners complain about rear window wind noise. A TSB exists for '00 and '01 Maximas, but all 5th generations can exhibit this issue. If you're outside your warranty or just prefer to do it yourself, it's an inexpensive and simple fix.
| | |
| --- | --- |
| | |
| | Did this help you out? Feel free to throw us a bone to help keep housecor's how-to's hosted! |
| | |
The wind noise comes from the rear corner of the rear windows. I purchased 3M foam tape from a local auto parts store (Advance Auto Parts) for around 8 bucks. The strip is 1/2" x 3/4" and is adhesive on one side: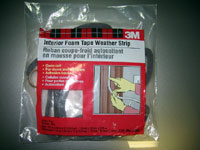 Home Depot also sells the weather strip, but in a slightly different dimension. Just try to get foam weather stripping in a similar size to the foam picture above and it should do the trick.
Instructions:
Reinstall seal

Enjoy a quieter interior!
This can be performed on the front windows as well to further quiet your interior if you prefer.
Copyright © 2003-2009. All rights reserved.

Instructions are for entertainment purposes only. Perform at your own risk.
This site is in no way affiliated with Nissan North America, Inc.
Nissan, the Nissan Brand Symbol, "SHIFT_" tagline, and Nissan Model Names are trademarks of Nissan North America, Inc.