How to install Chrome Gauge Rings From paradox-systems.com

Installation procedure:
1) Remove the kick panel underneath the steering wheel. There are 2 screws at the bottom of the trim and snaps at the top. Get the screws removed and pull towards the rear of the car to release the snaps.
2) Disconnect the dimmer (and heated steering switch) wires and remove the panel from the work area.
3) Underneath the steering column is a metal support brace that is held on by two nuts. Remove both of them with a socket wrench and remove the plate. The bolts are stationary.
4) About the same location as that bar, but further towards the sky are two more nuts that hold the steering column in place. The bolts are stationary, so you just remove the nuts. This will "drop" the steering column down about 6 inches (which is enough clearance to remove the trim).
| | |
| --- | --- |
| | |
| | Did this help you out? Feel free to throw us a bone to help keep housecor's how-to's hosted! |
| | |
5) Using a small screwdriver, remove the 2 bolts at the top of the instrument cluster trim.
6) Using your hands (or a small flat screwdriver wrapped in a cloth), pry apart the top of the cluster trim from the dashboard and pull towards the rear of the car. The bottom of the cluster trim snaps out.
7) Lay the trim off to the side (you do not have to disconnect everything, just move it out of the way)
8) Remove the 3 screws that are holding in the white tabs of the instrument cluster. Pull the cluster out.
9) Disconnect the electrical connectors to the cluster and remove the cluster completely.
10) There are snaps around the clear plastic cover on the cluster. Gently pry the up to remove the plastic cover.
11) Press gauge rings into place. They come with adhesive.
12) Clean the plastic cover front and back double checking for fingerprints and lint and reinstall.
13) Repeat steps 1-9 backwards to reinstall.
NOTE: DO NOT UNDER ANY CIRCUMSTANCES PUT THE KEY IN THE IGNITION (OR TURN THE CAR ON) WITH THE CLUSTER DISCONNECTED.
Using the steps above the installation is pretty simple. And the results? Very clean. Understated. Classy. It really makes the cluster look much more 3-demensional. The pictures simply don't do them justice, particularly at night. The light from the gauges makes the rings shimmer. Well worth $35!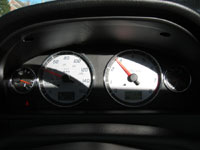 | | |
| --- | --- |
| Before: | After: |
Comparison with/without rings side by side: